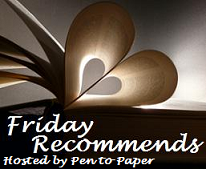 Friday Recommends is a meme hosted by Pen To Paper.
This is where we can share a book we would highly recommend.
The rules for Friday Recommends are:
Follow

Pen to Paper

as host of the meme.

Please consider adding the blog hop button to your blog somewhere, so others can find it easily and join in too! Help spread the word! The code will be at the bottom of the post under the linky.

Pick a book that you've read, and have enjoyed enough to recommend to other readers. It can be a book you've read recently, or a book you read years ago - it's up to you - but make sure you tell us why you love the book (like a mini review). You make the post as long or as short as you like.

Add your blog to the linky at the bottom of this post after posting your blog post.

Put a link back to pen to paper (http://vogue-pentopaper.blogspot.com) somewhere in your post.

Visit the other blogs and enjoy!
My choice this

week is
:
In the class of the high school English teacher she has been haunting, Helen feels them: for the first time in 130 years, human eyes are looking at her. They belong to a boy, a boy who has not seemed remarkable until now. And Helen—terrified, but intrigued—is drawn to him. The fact that he is in a body and she is not presents this unlikely couple with their first challenge. But as the lovers struggle to find a way to be together, they begin to discover the secrets of their former lives and of the young people they come to possess.
___________________________________
"Someone was looking at me, a disturbing sensation if you're dead."
I've read this book a loooong while ago, but I remember how pleasantly surprised and satisfied I was with it. I think maybe it's time for a re-read. ;) Oh, and the cover is really beautiful, too. In a slightly creepy way. LOL.
Here's one of my favorite quotes:
"Books are boring," James said as he wrote.




"They line the walls like a thousand leather doorways to be opened into worlds unknown," I offered."
Do you have any good recommendations?