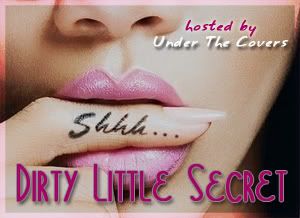 Dirty Little Secret is a weekly meme hosted by
Under the Covers
.
"Book boyfriends of 2011! Make a list but you can only use books you've read this year.
"
Thanatos (Immortal Rider), Acheron (The Dark-Hunters, Vol. 4), Eric (Undead and Undermined), Eric (Dead Reckoning), Micah and Nathaniel (Hit List), Hannen (The Heart of Hannen), Darcy (Darcy and Fitzwilliam: A tale of a gentleman and an officer), Jace (City of Bones), Seth (Wicked Lovely), Cole (Forever), Simon (Lord of Danger), Simon (The Serpent Prince), Harry (The Leopard Prince), Ash

(

The Iron Queen), Tyrell (The Masquerade), MacGregor (Wild Dawn), Raine (Raine), Dante (Mona Lisa Eclipsing), Euan (Bedtime, Playtime) and Hugh (Mystique).
Okay, maybe the list is a bit long (20 books, 21 boyfriends), but they were all so dear, so strong and, yeah, hot, I couldn't leave any of them out.
I did have to remove about ten names from the original list, but none of these remaining guys can go. They're not allowed. LOL.


So, who are your book boyfriends?