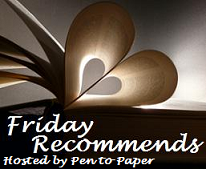 Friday Recommends is a meme hosted by Pen To Paper.
This is where we can share a book we would highly recommend.
The rules for Friday Recommends are:
Follow

Pen to Paper

as host of the meme.

Please consider adding the blog hop button to your blog somewhere, so others can find it easily and join in too! Help spread the word! The code will be at the bottom of the post under the linky.

Pick a book that you've read, and have enjoyed enough to recommend to other readers. It can be a book you've read recently, or a book you read years ago - it's up to you - but make sure you tell us why you love the book (like a mini review). You make the post as long or as short as you like.

Add your blog to the linky at the bottom of this post after posting your blog post.

Put a link back to pen to paper (http://vogue-pentopaper.blogspot.com) somewhere in your post.

Visit the other blogs and enjoy!
Darcy and Fitzwilliam: A tale of a gentleman and an officer
A gentleman cannot survive without his best friend...
Fitzwilliam Darcy and colonel Fitzwilliam couldn't be more different. Darcy is quiet and reserved, and carries the weight of his responsibilities on his shoulders. His affable and vivacious cousin, Colonel Fitzwilliam is a confirmed bachelor whose military feats have made him a hero, and whose devil-may-care personality hides the torments within. Cousins, best friends, and sparring partners, Darcy and Fitzwilliam have always been there for each other. Then life gets complicated, with unrequited love and unresolved deeds from the past raising their ugly heads, and family difficulties threatening even the most steadfast friendship. Will these two strong personalities find a way to align, or will the vicissitudes of life and love tear them in different directions and destroy the family they have always worked together to protect?
____________________________________
I won this title from a giveaway and I'm so glad for the opportunity to read it, because otherwise I may have never heard about it.
I've never been much of a Jane Austen fan, but I loved this 'sequel' to Pride and Prejudice. LOL
The cover is absolutely gorgeous, the writing is fluid and fun, the intimate / romantic scenes between Darcy and Elizabeth are so cute, and there are SO many great quotes!!!
The book is divided in 'two volumes', being the first about Dracy and Elizabeth and the second about Colonel Fitzwilliam and Amanda Penrod, a character of Wasylowski's creation.
I happened to enjoy the first part better than the second, because I could relate more to Lizzy than I could to Amanda, but both of them had very well-written 'stories'. It IS a big book, but you're never tired or uninterested in any way. The author makes sure of it.
But among all, my favorite character had to be Lady Catherine. A very difficult woman, but super funny and with a great heart. ;)
Some of my favorite quotes:
"I myself find women to be unbelievably wonderful creations."

"I suppose you will continue with this treacle even as I beg you to stop."

"Well, think about it…" Darcy continued, looking up from his work.

Fitzwilliam groaned.

"They give back to you double and triple whatever little you hand them."

"I think I'm going to be ill, Darcy. Please stop."

"You hand them disparate items of food, and they give you back a wonderful meal. You provide them with four walls and a floor, and they give you back a loving home. You give them your seed," Darcy's eyes misted, his voice choked with emotion. "You give them your seed, and they give you back the most precious thing of all—a child…" They sat in silence together.

"And God help you if you give them shit." Fitzwilliam was calmly packing tobacco into his pipe, and his eyes met Darcy's for a moment. Understanding flashed between them.

"Amen to that, Cousin." Darcy crashed down to earth, quickly resuming his work"
- and -
"Did you just spit on your hand before you patted down my hair?" he asked indignantly.
"Oh, I did no such thing. Now be still. Of all the rude, impertinent accusations to make! Bend down lower. I will have you know that members of the aristocracy do not have 'spit' as you crudely refer to it, young man. We do not acknowledge saliva in any form. Straighten your collar. There, you look nearly presentable." She grumbled in aggravation, "Do you even own a brush?" Grabbing his chin, she brusquely turned his face from side to side. "For heaven's sake, Richard, what did you use to shave—a shovel?"
"Leave now, Catherine, and I may spare your life." There was a moment of quiet from behind the door. "Go, woman! I intend to begin ravishing my wife shortly; however, I will not even consider it before I see that little dwarflike body of yours waddling down this corridor! Away with you! Shoo!"
There are many other great ones here.
If you like historical romances with drama, humor and strong female characters, this is definitely your read. ;)