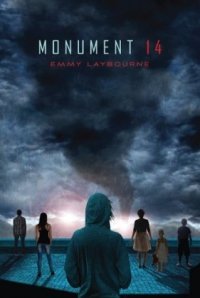 Expected publication: June 5th 2012 by Feiwel & Friends
Fourteen kids. One superstore. A million things that go wrong.
A huge store isn't the worst place to be stranded. There's food and water, bedding and books. But what if it's not safe to leave? Emmy Laybourne had us from the get-go with her utterly fresh and fast-paced debut.
Six high school kids (some popular, some not), two eighth graders (one a tech genius), and six little kids are trapped together in a chain superstore. Together they build a refuge for themselves inside, while outside, a series of escalating disasters, beginning with a monster hailstorm and ending with a chemical weapon spill, seems to be tearing the world—as they know it—apart.
Genre: Young Adult, Dystopia
Publication Date: June 5th 2012
Publisher:
Feiwel & Friends
___________________________
Dean and his brother Alex are late for the bus. And as they run for it, they can never imagine this might be the last time they'll see their parents. On the way to school a terrible hail storm hits the city. But this isn't ordinary hail. These are enormous balls, heavy enough to start breaking the windows and making dents in the roof of the school buses. The students are hurt and there a couple of casualties, but eventualy they end up in the momentary safety of the inside of a superstore. There are kids from fifth grade to high school seniors. And they have to fend for themselves until help comes. If it ever will.
Inside the store are fourteen people: Dean, who is in love with super athlete Astrid, whom is dating Jake, the hot jock. Niko, the boy scout, likes Josie, the girl with a serious head concussion who eventually gets better and hooks up with Brayden, the jerk. And then there is Sahalia, the thirteen year-old that wants to be a grown-up and Alex, the pre-adolescent tech genious. And the six little kids who all want their momies.
The Network, which has never gone down, is not working. So there is no contact with the outside world. Their only source of information from the outside comes from an old slim TV, that is considered completely outdated, but, unlike everything else, works without The Network. That's how they discover that there's been an 8.2 earthquake, the biggest volcano eruption and tsunami ever documented and, if that wasn't bad enough, that there has been a leak of chemical warfare compounds from NORAD. A chemical leak that forms a very thick cloud all over the city and, if inhaled, causes different reactions depending on the blood type of the individual. Blood type O can become bloodthirsty, losing their minds and killing anything in sight. Blood type A can have blisters all over their bodies, which can make them hemorrhage to death. Blood type AB can hallucinate and blood type B can have no reactions on the outside at all, but become sterile.
After a few days go by and they start to accept that maube nobody is coming, the teens begin to argue about who is in charge and who makes the decisions. Should they enjoy their days and play and have fun with all the store has available? Or should they organize everything, calcute how long their provisions will last, control the electric power to last longer, etc? It was fascinating to see them react to the problems that kept coming up and find the solutions. To see them deal with the issues at hand, see them deal with the very difficult small kids and with each other.
The book showed some kinds of situations you never even imagine can ever happen, so it's good to know what is possible to do with the items at hand and how to act if certain circumstances ever come up. It may be fiction, but, however unlikely, not everything there is impossible.
I really, really enjoyed the book as a whole. There was never a dull moment, everything that happened was exciting and surprising and intriguing and made you want more and more and more... but the ending was SO very frustrating. I wish there was an epilogue or something, so we know what really happens, how it really ends.
From the first sentence I knew I would really enjoy this book. And I wasn't wrong. But e
ven though I was seriously stirred up by the plot and the characters and everything, I just wasn't satisfied with the ending at all. But I really recommend it!! Monument 14 is amazingly creative, absurdly engaging.
If you like post-apocalyptic and dystopian YAs with a strong survival theme, some romance and drama thrown in the mix, you'll really enjoy Monument 14.
* I received an eARC from Netgalley in exchange for an honest review.*