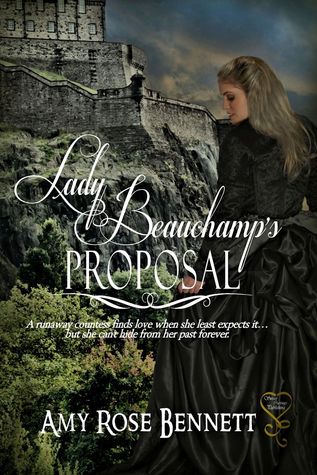 by Amy Rose Bennett
Synopsis: A runaway countess finds love when she least expects it…but she can't hide from her past forever.
Elizabeth, Lady Beauchamp, fears for her life. When she discovers her dissolute and long-estranged husband has syphilis—and he wants to beget an heir no matter the cost—she flees to a remote part of Scotland to begin a new life as the widowed governess, Mrs. Beth Eliott at Eilean Tor Castle.
When Mrs. Eliott unexpectedly arrives on his doorstep, the reclusive and recently widowed Marquess of Rothsburgh is both irritated and intrigued. No longer in need of a governess—his young daughter now resides with his sister's family in Edinburgh—he proposes the beautiful widow fill a position of a different kind…
Torn between staying true to her marriage vows and her wanton attraction to the devilishly handsome marquess, Elizabeth struggles against the temptation to become his mistress. But living a lie is not easy when you have fallen in love. And secrets always have a way of coming out…
___________
My Review
*I received an e-copy from the author in exchange for an honest review*
I first saw this title on a Book Tour, and the minute I read the blurb and excerpt, I just knew I had to read it. I have never seen a historical romance even mention the great pox, or syphilis, before, let alone use it as such a big and important part of the plot. And that is how we first meet our heroine,
Elizabeth, Lady Beauchamp. Freaking out about her (drunk) husband's (unexpected) visit to her bedchamber, after a loooong dry spell. We quickly learn that the handsome blonde Hugh doesn't care much for his wife, only mistresses and whores, and it was a letter from one of those that let Elizabeth know for sure what the new "marks" on her husband were. Syphilis. Something he clearly wasn't concerned about, seeing as he, all of a sudden, wanted to try and beget an heir in her. So she did what she could. She ran!!! All the way to Scotland. ;)
There, disguised as
Mrs. Beth Eliott,
she starts to work for the reclusive M
arquess of Rothsburgh, a dark and sensual man. Soon enough (really, instant attraction) the sparks start to fly. I enjoyed their chemistry a lot. The scenes were hot, but not at all vulgar. Rothsburg was such a touching and unique character! Betrayed and brokenhearted by his terrible witch (no offense to actuall witches) of a first wife, he was left to raise a child from another man, being known as a cuckold and a joke amongst the ton.
So, that's the thing. The book started with a bang, the secondary characters were all charming, the dialogues were smart and daring, but at some point I stopped caring about Beth a little. I'm not sure why, she just seemed to have lost her... energy, or courage. I couldn't understand or agree with some of her actions.
I LOVED the dogs from the castle!!! They were
Rothsburgh's only companions. Delightful creatures, very well-portrayed. I was sincerely curious to see how the author would manage their happy ending, seeing as she was still MARRIED to her awful husband... but then we find out some very important things... and it all starts to fall into place.
Lady Beauchamp's Proposal was a lovely read, full of surprises and interesting themes we don't see much in ordinary romances. That alone is a good enough excuse for you to check it out. :) The romance was really there. I could almost feel their love for each other. Sure, we knew they would fall madly in love with each other, but it wasn't instant. The lust was instant, but the love grew. (Yes, this sounds a but yucky, but I can't help feeling sentimental once in a while).
Grab a copy and lose yourself in this amazing tale.
.